Phu Quoc – The pearl island of Vietnam, can be said to be a great place for visitors who want to see the "masterpiece of nature" – the sunset on the sea.
Sunset on Phu Quoc Island
The sunset scene on Phu Quoc Island really makes people captivated, only nature in Phu Quoc can create such great beauty, Only here can you be so close to nature.
Life gives us a lot of interesting things, this place gives us beautiful sunset afternoons, If you have never watched the sunset here, what are you waiting for, come to Phu Quoc and feel.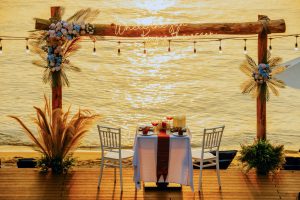 Not only watching the sunset, but you can also play with the waves of the sea, immerse yourself in the clear blue water, playing sea games and even diving to see the colorful coral reefs will all bring you a great feeling.
Anja Beach Resort & Spa Phu Quoc – Phu Quoc resort has a beautiful sunset location
Anja Beach Resort & Spa Phu Quoc is a classy and luxurious resort, located in the beautiful and quiet Phu Quoc Pearl Island. The luxury resort is located in a private garden with a private beach area in Duong To commune, many advantages of sea view, charming scenery. With this "one-of-a-kind" location, you can watch both sunrise and sunset right at your own place.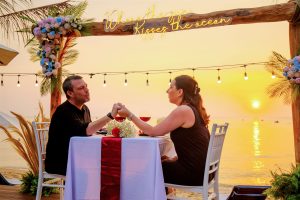 In the afternoon, you can delight in swimming and watching the sunset at Truong Beach. This is one of the beaches with the most beautiful stretch of natural golden sand in Phu Quoc. What's great when you immerse yourself in the clear water and relax after the chaos of life. Surely you will have memorable moments after this trip.