LUXURY VILLA IN THE MIDDLE OF NATURE AT ANJA RESORT
In the hustle and bustle of modern life, everyone craves a peaceful and relaxing space to rest and regenerate energy. Anja Beach Resort & Spa Phu Quoc, with luxury villas located in the heart of nature, is the ideal destination for those who want to escape the noise of the city and find peace and quiet come to a luxury villa in the middle of nature at anja resort 
Prime location
Many Phu Quoc tourists want to choose a Phu Quoc resort or hotel with a convenient location so they can easily visit Phu Quoc tourist areas without spending too much time and effort. Possessing a special location advantage on Bai Truong, Anja Beach Resort & Spa Phu Quoc is an ideal choice for tourists who want a resort on Pearl Island.
Anja Resort is located in a prime location, where wild and majestic nature is delicately and perfectly preserved. This resort is located away from the hustle and bustle of the city but still easily connected to famous tourist attractions. Thanks to its convenient location, visitors can save a lot of time on their trip when staying at Anja Beach resort, and at the same time enjoy the extremely high-quality amenities and services that Anja Phu Quoc resort offers to tourists. visited customer.
Luxurious and sophisticated Villa design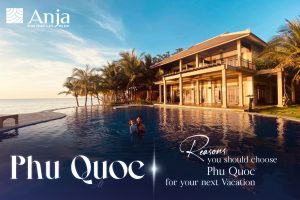 If you like to experience the feeling of living and relaxing in a cheap Phu Quoc villa but still have all the strengths such as beautiful rooms, new amenities, swimming pool, bar, and close location. With the beach close to the center, there is a villa at Anja Beach Resort to meet your seemingly impossible demands.
Each villa at Anja Resort is designed with a classic style that is still modern and luxurious but still in harmony with the surrounding nature. Large rooms, with views of the sea or green garden, provide a true resort experience.
Our resort's classic architecture is a tribute to timeless beauty. Our rooms are elegantly decorated with intricate details, including towering columns, arched doorways and ornate moldings. Each room is a masterpiece, crafted with the utmost attention to detail to deliver a truly unforgettable experience.
It's the reason why the name of it is  the luxury villa in the middle of nature at anja resort 
Classy amenities
At Anja Resort, each villa is fully equipped with high-class amenities. From luxurious bedrooms, cozy living rooms to modern kitchens, each space is taken care of to ensure comfort and convenience for customers. Sound systems, smart TVs, and high-speed Wi-Fi are indispensable amenities in each villa and you will understand why  its called a luxury villa in the middle of nature at anja resort 
Not only possessing natural beauty, Anja Resort also focuses on providing high-class utility services. From high-end spas, swimming pools, diverse culinary restaurants to outdoor entertainment activities, all visitors' needs are perfectly met.
It can be said that  the luxury villa in the middle of nature at anja resort  is a suitable place for everyone when choosing to travel to Phu Quoc, from couples to groups of friends, families with children or companies organizing teams. building,… This 5-star Phu Quoc luxury resort will meet all your needs.
Experience dedicated service
The staff at Anja Beach Resort is always ready to serve with a professional and dedicated attitude. Whether it is a request to book a tour, spa services at the villa, or organize a private party, all customer needs are met quickly and thoughtfully.
Anja Beach Resort is not only a resort destination, but also a true experience of living close to nature, in a luxurious and peaceful space. It is the ideal choice for those who are looking for a relaxing vacation, rejuvenating their vitality and enjoying peaceful moments in the heart of majestic nature.
Come to our fanpage here to know more
Something you may want to know more here