Every moment at Anja is a priceless memory
When entering Anja Beach Resort & Spa Phu Quoc, each visitor not only comes to a vacation destination, but also enters a world of unforgettable memories. Anja Beach Resort, where every moment becomes a priceless memory, lies peacefully on the deep blue beach in the middle of the Pearl Island, welcoming all visitors with its wild beauty and classy service.
A moment of absolute relaxation
Anja Resort is a resort nestled on the beautiful Pearl Island, in an absolutely private and quiet space, located on a separate beach. Anja Phu Quoc is the ideal place for tourists who want to find a feeling of relaxation and unique experiences. The villas at this resort appear with an idyllic image located in the middle of a green garden space, extremely ideal for dreamy souls to stop and comfortably enjoy a peaceful relaxing time right in the middle of the night. Phu Quoc heart.
Contrary to the hustle and bustle of the city center, Anja Beach Resort brings a peaceful and quiet atmosphere with a large garden space always filled with the sound of birds singing every morning and the rustling of the wind. blow with the sound of old, soothing waves. The ideal space for you to feel the silence of life and dispel daily worries and worries.
At Anja Beach Resort, the spa and relaxation treatments are a resort paradise. Under the hands of skilled experts, all stress and fatigue seem to be dispelled, leaving a feeling of freshness and refreshment. The moment of relaxation here is not only rest for the body but also rebirth for the soul.
A peaceful moment by the beach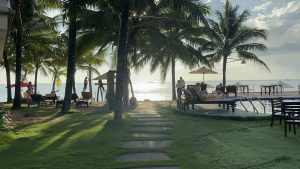 Start your day with a brilliant sunrise on Anja Resort's beach. There's nothing better than waking up in the morning in your room to the sound of waves crashing against the shore and the sound of the wind rustling among the green coconut trees. Visitors just need to open the door and golden sunshine, white sand, blue sea and brilliant sunrise will flood everywhere. Walk on the soft sand, hear the gentle sound of waves, and feel the breath of the sea. Every step on the sand, every sea breeze blowing, leaves an indelible mark in the hearts of visitors.
Visitors can relax, admire the peaceful scenery and enjoy a leisurely, fun-filled vacation.
The new day will be more perfect with quiet moments with a book by the pool and full energy with a delicious breakfast served in the room.
Luxury vacations are associated with a sense of comfort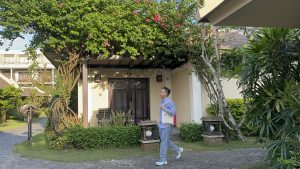 A luxury vacation does not simply lie in unique design or luxurious facilities, but is the combination of all elements accompanied by the feeling of being pampered from maximum personalized services.
At Anja Beach Resort & Spa Phu Quoc, visitors will feel a joyful spirit when waking up to the sound of waves, with gentle rays of sunlight kissing their hair and the breeze carrying the salty scent of the sea. Waiting on the porch is a delicious breakfast with fresh juice, freshly brewed tea and coffee or freshly baked cakes that smell delicious all morning. Rest a bit and then practice meditation together, or useful stretching to ensure that the body, even in a state of rest, remains supple and flexible.
No need to go far, guests can still enjoy other relaxation and entertainment activities organized upon request right in their villa. There will be nothing more enjoyable than lying on lazy chairs in the garden, sipping popcorn and enjoying each exciting movie shown just for you to enjoy.
Families or groups of friends staying here can choose BBQ at home to comfortably enjoy time together. A private chef, aromatic wine, fresh seafood, Phu Quoc delicacies and a sunset over the sea are what make for an unforgettable dinner.
Not stereotypical in style or any service, a stay at one of Anja Beach Resort Phu Quoc's high-end villas promises to bring visitors a new concept of quality relaxation and a lesson in love. pamper yourself. Luxury is associated with a feeling of comfort, and a vacation with exclusive services is like a gift that anyone can reward themselves when coming to InterContinental Phu Quoc Long Beach.
Come to our Fanpage here to get more imformation
Something you may want to know here