In modern life, the pursuit of relaxation and enjoying high-quality beauty experiences has become an essential need for many people. And when you visit the spa at Anja Beach Resort, you will immerse yourself in a peaceful space, admire the cool blue sea view, and experience incredible services like never before. Let's explore more about the diverse services, beautiful surroundings, and amazing benefits that the spa at Anja Beach Resort offers.
Luxury and Class of the Spa at Anja Beach Resort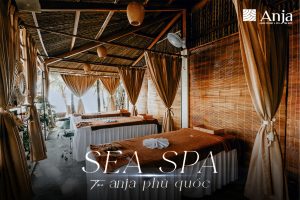 The spa at Anja Beach Resort not only meets the beauty and healthcare needs of customers but also provides a range of diverse services. Here are some popular services you can find at these spas:
Relaxation massage: This is a service that many people love when they visit a spa. Relaxation massage helps reduce stress, fatigue, and creates a comfortable and pleasant feeling.
Skin treatments: The spa at Anja Beach Resort usually has a team of highly skilled dermatologists who use modern technology to help customers improve skin conditions such as acne, melasma, and freckles.
Whitening treatments: Whitening treatments help the skin become brighter, smoother, and more natural. The spa at Anja Beach Resort usually uses high-quality whitening products that are safe for the skin.
Hair removal: Hair removal is a service that removes excess hair from the body and leaves the skin smooth and clean. The spa at Anja Beach Resort applies modern hair removal techniques that do not cause pain or damage to the skin.
Cosmetic tattooing: Cosmetic tattooing is a service that changes appearance and brings natural and attractive beauty to customers. The spa at Anja Beach Resort has a team of professional tattoo artists who use high-quality and safe tattoo ink.
In addition, the spa at Anja Beach Resort also provides other services such as hair care, nail care, health care, and more.
Beautiful Sea View at Anja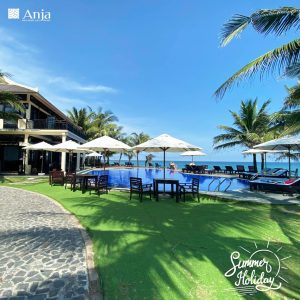 One of the special features of the spa at Anja Beach Resort is the stunning sea view that you can enjoy. When you relax in the spa area, you will admire the cool blue sea view, enjoy the fresh sea breeze, and experience the tranquility and serenity that the sea brings. The beautiful landscape and fresh air will create a relaxing atmosphere and help you find inner peace during your spa experience.
Spa at Anja Beach Resort Brings Relaxation to the Soul
We not only provides a relaxing experience but also brings many benefits to your health and well-being. Here are some key benefits you can receive:
Stress and anxiety reduction: The quiet sea environment and fresh air will help reduce stress and anxiety, creating a sense of relaxation and freshness.
Blood circulation stimulation: Massage and other spa therapies can stimulate blood circulation, providing nutrients and oxygen to the body, making you feel refreshed and energized.
Enhanced immunity: The marine environment contains antibacterial negative ions that enhance the body's immune system. Contact with the sea during the spa experience can help boost immunity and fight against diseases.
Skin beautification: Skin care treatments at the spa at Anja Beach Resort often use high-quality products and advanced technology to enhance skin beauty. You can see your skin become brighter, smoother, and more youthful after each experience.
We offers you an excellent relaxation experience, combining excellent care services with a stunning sea view. You will relax, rejuvenate your body and mind in a peaceful and tranquil space. If you're looking for a special and classy relaxation experience, try a spa at Anja Beach Resort and enjoy its amazing benefits.
Join our FanPage here to stay updated on the latest offers and information.
You may also want to read more interesting information from us: here.