When it comes to a beach vacation immersed in a peaceful and luxurious space, A dream room at Anja Beach Resort & Spa Phu Quoc is a destination you cannot miss. With a dream room where every moment of rebellion is an experience immersed in relaxation, Anja Beach Resort promises to bring you an unforgettable vacation.
Design matters
Our resort's classic architecture is a tribute to timeless beauty. Our rooms are elegantly decorated with intricate details, including towering columns, arched doorways and elaborate moldings. Each room is a masterpiece, crafted with the utmost attention to detail to deliver a truly unforgettable experience.
Each apartment at Anja Beach Resort is a work of art with delicate design, harmony between traditional and modern beauty. It is possible to fail in choosing a balanced technique from high-quality materials, ensuring optimal comfort for the customer. You will be judged by the sunrise filtering through the window, or the gentle sound of ocean waves in the evening, elements that create an ideal resort space.
Villa system at Anja Beach Resort & Spa Phu Quoc
Includes 2 types of rooms: Sea view and garden view
PERFECT BEACH VILLA (3 adults, 1 child under 6 years old)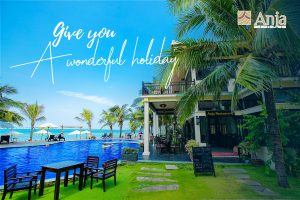 With an area of 160 m2, with modern design, fully integrated amenities for your vacation. Possessing a private swimming pool, luxuriously designed living room and kitchen, and a prime location with ocean views, this villa is an ideal choice for families or groups of tourists on vacation. nursing or work.
This type of "Impecable Beach Step" villa not only provides a luxurious and classy resting space but also creates an opportunity for guests to completely relax and enjoy the beauty of the sea. These are definitely some perfect options for those looking for a memorable vacation
VN BUNGALOW / EXECUTIVE BUNGALOW (3 adults, 1 child under 6 years old)
With garden views and many integrated amenities, it will provide a wonderful vacation experience. Below is a detailed description of the room's space and amenities:
Area: The room has a spacious area of about 60m2, creating a feeling of airiness and relaxation.
Bed: Guests can choose between 2 single beds or 1 large double bed, suitable for the family's needs. The beds are equipped with high-quality, feminine mattresses.
Decoration: The room is decorated in traditional Vietnamese style, with furniture made from natural wood and household fabrics, creating a cozy and cozy feeling.
This bungalow-style room not only provides a comfortable resting space but also brings a unique cultural experience of rural Vietnam, suitable for the whole family looking for peace and closeness to nature.
Guests can enjoy a cup of tea on the balcony or courtyard. Rooms here are equipped with a LCD TV and a private bathroom with a bathtub, shower and free toiletries. Some rooms have seating for relaxation. Bathrobes and slippers are also provided.
Experience privacy, impeccable service and amenities in a dream room
Your room at Anja Beach Resort is not only a place to rest but also a private space for you to relax. With professional room service, you will feel meticulous care and the privilege of enjoying high-class services such as spa, private kidney tank, or romantic dinner right on the balcony facing the sea.
Anja Beach Resort constantly improves service quality to meet all customer needs. From airport welcome services, infinity pools, to recreational activities such as scuba diving and beachside yoga, the resort is committed to bringing absolute satisfaction to your vacation. Guests can access the 24-hour front desk to arrange tours and provide daily room service.
High class cuisine
Cuisine at Anja Beach Resort is a combination of local and international culinary cultures. Automatically selected breakfast with a rich menu, exquisite dinner with fresh ingredients prepared by top chefs, ensuring each meal is not only delicious but also a wonderful experience for the taste buds. .
Choosing Anja Beach Resort, choose for yourself a classy resort space, experience an upscale lifestyle with absolute peace. Your dream room awaits at Anja Beach Resort – where your vacation will become your most memorable.
Book today to experience the luxury and privacy unique to Anja Beach Resort, and let us turn your vacation into an unforgettable journey.
Join Our FanPage here for more imformation
Something interesting you may want to know here