BREATH OF NATURE IN THE GARDEN AT ANJA RESORT
For a long time, the often busy and stressful life in the city has made us feel stressed and tired. That's when we need a vacation to escape everyday life and find peace in the breath of nature. And if you are looking for a place to enjoy the breath of nature in a beautiful and quiet garden, Anja Beach Resort & Spa Phu Quoc is the garden where you can fully enjoy the breath of nature.
Lush green garden
Anja Resort is located in a unique location, amidst a fresh and tranquil natural environment. When you step into the resort's garden, you will immediately feel the difference from the noisy and fast life in the city. This garden is truly a work of art of a delicate combination between humans and nature and you will find breath of nature in the garden at anja resort 
Walking in this garden, visitors will feel the relaxation and tranquility that only nature can bring. The sound of the sea's murmuring waves combined with the gentle sound of the wind blowing through the leaves creates a pleasant natural concert. The cool feeling of fresh air and natural fragrance will make you forget all the worries and stress in daily life.
Green attracts tourists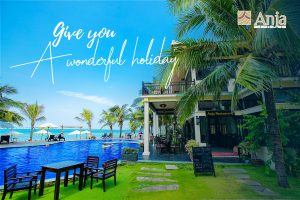 Explore a natural world where life slows leisurely and worries fade away amid the rhythms of the Pearl Island. Immersed in the peaceful greenery and verdant landscape, home to more than 3,000 trees, visitors to Anja feel like they are entering a diverse tropical paradise and breath of nature in the garden at anja resort 
The separate garden that is hard to find anywhere else other than this S-shaped piece of land will make visitors want to return to Anja Beach Resort again. The combination of blue and surrounding green creates a relaxing and peaceful atmosphere. Blue often represents tranquility and engrossment in relaxing at the beach. Meanwhile, green brings a feeling of closeness to nature and freshness.
Anja Beach resort & Spa Phu Quoc is probably a great place to relax and enjoy the blue sea atmosphere and cool green trees. I hope you will have a pleasant experience there and find the thing called  breath of nature in the garden at anja resort 
Distinctive features of the garden villas at Anja resort
Interact with nature
When you set foot at Anja Resort, you will not only experience luxury and professional service but also immerse yourself in the natural beauty and relaxation that our garden architecture brings.
The architecture at Anja Beach Resort creates a wonderful blend with the surrounding natural environment. Using natural materials, arranging green space and being in harmony with nature makes the resort environmentally friendly and creates a feeling of closeness and relaxation for visitors.
Unique exterior architecture
Unique and innovative architecture, with a combination of natural and modern elements. Anja has architectural blocks that create highlights and uses natural materials such as wood, stone, or trees to create a space in harmony with the surrounding nature.
The interior of a resort-style garden house is often designed to create a comfortable, cozy and modern space. The use of natural materials, gentle colors and natural light has created a relaxing and comfortable space for visitors and you will find breath of nature in the garden at anja resort 
Anja Resort: immerse yourself in the breath of nature
The infinity pool at Anja Resort is a work of art, where you can immerse yourself and enjoy the feeling of drifting among the vast blue sky. Discover a moment of relaxation unlike any other and indulge in stunning sea views.
Then visitors can enjoy the ultimate flavors at Anja Restaurant: Not only a place to enjoy delicious local specialties but also a wonderful culinary experience. A team of talented chefs is always ready to prepare exquisite and diverse dishes, meeting all customer preferences.
Dedicated and thoughtful service, at Anja Resort, your satisfaction is the top priority. Our friendly and professional staff are always ready to serve you with dedication and enthusiasm.
Booking today and get the  breath of nature in the garden at anja resort 
Let Anja Resort bring you the experience of lush green space, immerse yourself in beautiful nature and enjoy memorable moments of relaxation. Book your room today and discover our paradise!
Come and visit our Fanpage: Here