The experience dinner you will have when come to Anja
As the sun gradually disappears behind the horizon, Anja Beach Resort's private beach lights up with sparkling candlelight and melodious music, creating the ideal space for you to enjoy an unforgettable dinner by the private beach. at Pearl Island.
Romantic space by the beach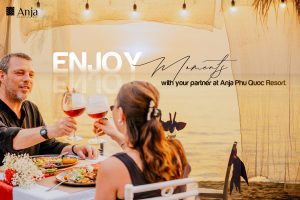 Enjoying dinner under the starry sky with the sound of the ocean waves is truly a wonderful experience. Meticulously arranged dining tables on the sand, candlelight and lanterns create an unforgettable cozy and romantic space. This is the ideal place to enjoy charming evenings with your loved one or enjoy moments with family and friends.
Not just a dinner, but also a wonderful experience to connect with nature and relax in the quiet space of the sea. The sound of whispering ocean waves and starlight in the sky certainly create a special and exciting atmosphere.
Unique cuisine and experience dinner
Our menu is a sophisticated combination of local flavors and international dishes, all prepared by a team of professional chefs. From fresh seafood caught right off the coast, to creatively prepared dishes, every bite is filled with love and passion for food.
Anja Beach Resort's staff is always ready to serve you with a professional and friendly attitude. We pride ourselves in providing a personalized service to meet every request, ensuring you have the most memorable experience.
Booking Now
Let Anja Beach Resort & Spa Phu Quoc take care of your dinner with a colorful and unforgettable experience. Contact us today to book and learn more about our special offers. We look forward to welcoming you to a paradise of romance and sublime taste.
Visit our Fanpage to get more imformation: Here