THE JOY DOOR AT ANJA BEACH RESORT PHU QUOC
At Anja Beach Resort Phu Quoc, we not only open our doors to welcome you, but also open the door to joy with unforgettable experiences. Book your room today to explore this resort paradise and let us accompany you on your journey to enjoy every precious moment in Phu Quoc.
Enjoy privacy and peace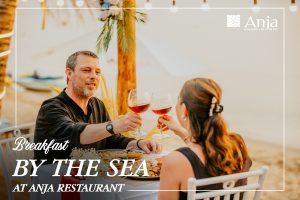 Located in one of the most beautiful locations on the pearl island of Phu Quoc, Anja Resort opens a peaceful and private space where you can shake off all your worries and immerse yourself in the slow, peaceful rhythm of life. nature.
Luxurious rooms, expensive views
Our resort's classic architecture is a tribute to timeless beauty. Our rooms are elegantly decorated with intricate details, including towering columns, arched doorways and ornate moldings. Each room is a masterpiece, crafted with the utmost attention to detail to deliver a truly unforgettable experience.
The Villas at Anja Beach Resort are delicately designed with sea or garden views, giving you a feeling of relaxation right from the first sight. The combination of modern interior and natural beauty creates an ideal resort space for all visitors.
Experience unlimited entertainment and relaxation
THE JOY DOOR AT ANJA BEACH RESORT PHU QUOC
Anja Resort is not only a resort, but also a destination with countless recreational activities: from swimming pools, relaxing spas, to island exploration tours. Every moment at the resort opens up new opportunities to enjoy and explore. This is also the ideal destination to organize events, sunset parties to professional conferences and team-building sessions, with high-class event organization services and attention to every small detail.
Anja Resort's staff is always ready with friendly smiles and attentive customer service, willing to go a step further to ensure that your vacation is not only comfortable but also full of joy. fun.
Let Anja Resort Phu Quoc be the key to opening the door to relaxation, fun and unforgettable memories. We believe that, after a vacation here, each guest will bring with them "joy" not only in their memories but also in every beat of their hearts.
Come to our Fanpage to get more imformation here