If you are looking for an ideal place to escape your busy life and relax in a luxurious resort, Anja Beach Resort & Spa Phu Quoc is definitely a great choice. Let's share with 24h at anja beach resort:A DAY TO REMEMBER.  Anja about a memorable day at Anja Beach Resort, where every moment is worth remembering.
Morning starts a new day with the sea: 24H AT ANJA BEACH RESORT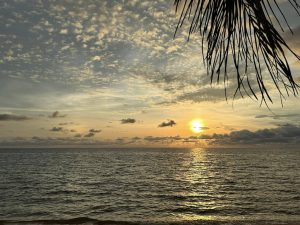 Set in private gardens, Anja Beach Resort & Spa offers accommodations with a private beach area in Duong To commune, along the southwestern beach of the island. This is one of the beautiful beaches in Phu Quoc that attracts tourists with its gentle golden sand strip. The sea water here is clear blue all year round, you can clearly see the color of each pebble or seaweed. Thanks to its charming beauty, Bai Truong attracts many tourists. Coming here, you will be able to soak in Phu Quoc beach, immerse yourself in the clear blue water, relieve all stress in life.
When you wake up at Anja Beach Resort, the smell of the sea will greet you. Breakfast at the resort's Anja Restaurant is not only delicious but also interesting with a combination of local specialties and international dishes. You can enjoy your favorite dishes in the open space and feel the cool sea breeze.
After breakfast, visitors can experience the blue sea and white sand beach. Dress in a bathing suit and immerse yourself in the blue ocean water. Anja Beach Resort's private beach is a great place to enjoy the sea and sunshine. Try some fun activities like surfing, scuba diving, or lounging on the soft white sand.
Lunch: lunch at Anja Restaurant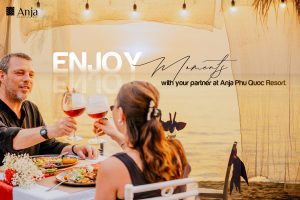 No need to leave the beach, you can enjoy lunch right on the resort's beach. The delicious flavors of fresh seafood and signature dishes will excite you. At the same time, 24H AT ANJA BEACH RESORT, you can enjoy cool drinks and watch the endless blue sea.
Relaxing afternoon in green space
The afternoon is the ideal time to enjoy luxurious spa services at Sea Spa. A relaxing massage or skin care treatment will help you completely relax and feel relaxed. Anja Resort offers a diverse range of spa treatments that you can choose from according to your individual needs. From skin care treatments to body relaxation methods, you'll find something to suit you. High quality products will give you soft, smooth and youthful skin. Using natural nutritional products and natural aromas ensures you are not only beautiful but also feel the sophistication and nature in each spa treatment and you will have great 24h at anja beach resort
But if you don't want the Spa, spend some time at the resort's pool. The swimming pool is located in the middle of a cool green garden, creating a quiet and relaxing space. You can rest in a chair, read your favorite book, or simply watch the clouds pass by in the blue sky.
Enjoy the night at sea
The food at dinner on the beach at Anja Beach Resort is always a special feature of this experience. We pride ourselves on using fresh ingredients and quality seafood from Phu Quoc sea. Anja Beach restaurant specially introduces a variety of seafood dishes, such as clams, scallops, crabs and shrimps, prepared by our talented chefs to bring you a wonderful culinary experience. The sweetness of seafood blends with the aroma of spices and fresh green vegetables, creating a unique flavor that you will never forget.
In addition to enjoying delicious food, you will also be immersed in a poetic space, with light from sparkling lamps, gentle music and quiet ocean waves. This is a great opportunity to enjoy relaxing moments with family and friends, connect with nature and enjoy the unique beauty of the sea.
We believe that dinner on the beach at our resort will be an experience like no other and leave beautiful memories in the hearts of guests.
Come to our fanpage here to get more imformation
You may wanna to know more here