Phu Quoc, Vietnam's beautiful pearl island, is not only famous for its beautiful beaches and pristine nature but is also a living museum of diverse and unique culture. If you want to further explore Phu Quoc culture, here are the ideal destination to learn about Phu Quoc culture 
The Ideal Destination To Learn About Phu Quoc Culture
Kinh – Chinese – Khmer culture at Phu Quoc Roots Museum
Not only is it a place for tourists to visit and learn about historical documents and rare artifacts, this is also an ideal cultural and sightseeing tourist destination on the pearl island.
Phu Quoc Origin Museum is home to more than 3,000 precious artifacts about the history of the pearl island. Therefore, when traveling to Phu Quoc, anyone wants to connect their schedule to visit this museum. Here, you also have the opportunity to learn about the unique cultural interference of the three ethnic groups Kinh – Chinese – Khmer.
For tourists who want to explore the culture and history of the pearl island, they can visit this museum. Although it is a private museum, many precious artifacts are kept here, giving you a new experience about the culture and origins of the most beautiful island in Vietnam and the ideal destination to learn about Phu Quoc culture
Dinh Cau Phu Quoc: Famous spiritual attraction on the pearl island
Tourists who have ever set foot on the pearl island certainly do not know the famous tourist destination Dinh Cau Phu Quoc with beautiful natural scenery, a long history and the most sacred.
Dinh Cau Phu Quoc is located in Quarter 2, Duong Dong Ward, Phu Quoc City, Kien Giang Province. This tourist destination is only about 200m west of the ward center, so visitors can easily move here when traveling to Phu Quoc. Once you arrive at Dinh Cau Phu Quoc, if you miss one of the activities below, you will really regret it.
Learn about the history and spiritual aspects of Dinh Cau
Dinh Cau has existed on Phu Quoc island for centuries, and learning about its history can help you better understand the island's past and development. In addition to history, Dinh Cau also has an interesting spiritual aspect. It's not natural that the people here chose to build the Palace on that cliff or the Temple, everyone has a story waiting for you to discover when you visit.
Explore Dinh Cau Phu Quoc night market
Another activity that tourists enjoy is exploring Dinh Cau Phu Quoc night market. This place is considered a shopping and culinary paradise with many specialty dishes and typical products only available in Phu Quoc.
Immerse yourself in the Dinh Cau festival in Phu Quoc
Phu Quoc Dinh Cau Festival is held on the 15th and 16th of the 10th lunar month every year. During the festival, there will be many unique activities and new and exciting experiential games. If you have the opportunity to visit the Palace, do not miss this festival.
Watch the beautiful sunset next to Dinh Cau
You can choose a spot at Dinh Cau or on the nearby beach to watch the sunset. Under the warm golden sunlight of sunset, you can relax, take photos, or simply immerse yourself in a peaceful space.
Ham Ninh Phu Quoc fishing village: wild beauty from mother nature
Ham Ninh Phu Quoc fishing village was originally just a wasteland on the East coast. After people migrated to make a living, this place gradually became crowded. Since then, this famous Phu Quoc fishing village has become the main source of seafood for the entire pearl island, notably sea cucumber fishing and pearl farming.
Tourists visit Ham Ninh Phu Quoc fishing village mostly because they love fresh seafood, the pristine space with clear blue sea and the population is mainly simple, honest and hospitable fishermen. If you are looking for such a peaceful place on the pearl island, don't miss this place and you will understand the ideal destination to learn about Phu Quoc culture
Enjoy your stay at Anja Beach Resort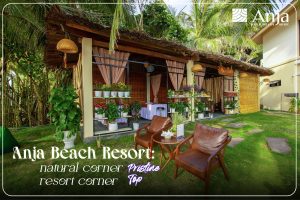 And to make the journey to explore and learn about Dinh Cau Phu Quoc more complete, visitors should consider choosing a good place to stay. You should prioritize hotels/resorts near the palace for more convenience in traveling as well as combining fun at other tourist destinations.
Anja resort's architecture is a tribute to Phu Quoc's indigenous style, where each villa is a combination of rustic beauty and luxurious amenities. Cultural immersion is at the heart of the Anja experience. The resort offers a range of activities that allow guests to gain insight and experience local customs and culture.
Thus, Phu Quoc is not only a blue sea paradise but also an ideal destination to learn about Vietnam's unique culture. Take the time to visit these locations for a memorable cultural experience on this beautiful pearl island.
I'm sure that you have understood the ideal destination to learn about Phu Quoc culture
Come to our Fanpage here to explore more here
Here are some thing you may want to know