Anja Beach Resort & Spa is an attractive destination, an outstanding resort with ancient house architecture in the Northern Delta located at Cua Lap beach, about 5km from Phu Quoc airport, about 4.5km from Bach Dang night market, convenient for sightseeing. shopping and entertainment. When you choose Anja Beach Resort & Spa Phu Quoc as your vacation destination, you will not only experience the comfort and convenience at the resort but also explore attractive destinations in the surrounding area. Here are some attractions and activities not to miss while you're near this resort:
Beach activities at Phu Quoc Truong Beach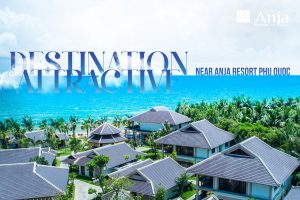 Go to the beach
Going to Bai Truong and not swimming is a big mistake. On hot summer days, many tourists come here to cool off quickly. The blue, clean, cool sea water not only dispels the heat but also helps you get rid of your worries.
An attractive destination to go for a walk and watch the sunset
With a long, smooth white sand beach and beautiful natural surroundings, you can stroll along the beach to fully feel the beauty of Bai Truong. This is a wonderfully relaxing experience that should not be missed when you are near Anja Beach Resort Phu Quoc.
When visitors walk on the beach, they will feel the calmness and tranquility that the sea and waves bring. Fine white sand runs long, creating the perfect highlight for your walk. This is a great opportunity to relax, unwind and enjoy the natural space on Phu Quoc island.
If you have your lover with you, there's nothing better than going for a walk at sunset. The warm golden sunlight of the sunset will create an exciting romantic atmosphere. You can together watch the sun set under the distant sea or immerse yourself in the quiet space of the night sea. This is definitely a great moment to create memorable memories.
In addition, you can also try activities like flying a kite, playing badminton or simply enjoying the soothing sound of ocean waves. Walking on Bai Truong is an indispensable part of your vacation in Phu Quoc, and it will bring you an unforgettable feeling of relaxation and peace.
Take check-in photos
Bai Truong Phu Quoc tourist area is both naturally beautiful and beautiful like a "sand castle" that has been carefully invested by people. Therefore, tourists who come here to "take a quick photo" will immediately have a beautiful photo. Blue sea water, white foam, many rocky outcrops of all shapes, long gentle sand beaches, coconut trees swaying in the wind are enough to create an attractive background. People also set up impressive scenes of schools of fish, elephants in the air or stone statues with human faces split in half for visitors to freely pose.
Dive and see coral
Phu Quoc Truong Beach is blessed by nature with an extremely diverse aquatic world under the ocean. Scuba diving to see coral and explore the rich ecosystem is an experience worth trying if you have set foot on the pearl island. Coming to diving tours in Phu Quoc, you will be fully equipped with tools to ensure a safe and complete trip.
Kayaking
With kayaking activities, visitors have the opportunity to admire the entire beauty of Phu Quoc, both on land and underwater. The feeling of floating on the water, touching the cool water caressing your skin, witnessing schools of fish swimming close to the side of the boat,… is perhaps too pleasant, causing many tourists to participate in this activity. when coming to Bai Truong.
Explore Phu Quoc walking street
Sonasea Shopping Center walking street: group 5, Duong Bao hamlet, Duong To commune (Bai Truong), City. Phu Quoc.
Sonasea Walking Street is located right at Bai Truong, Phu Quoc's first walking street opened to meet the entertainment needs of tourists. Coming here, visitors will enjoy culinary parties, music and colorful street activities. Not only fresh seafood and snacks, Bai Truong Phu Quoc night market also sells local products and many handmade souvenirs for tourists to take home.
At night, the walking street puts on a shimmering, fanciful coat with extremely sophisticatedly designed lights, shadows, and motifs with the "sea" theme. If you come here during important holidays such as Christmas or National Day September 2, the Sonasea neighborhood is even more beautifully decorated.
Enjoy seafood dishes along the beach
Coming to Bai Truong, in addition to interesting fun activities, you should also not miss the culinary discovery journey. Immersing yourself in the pristine beauty of the sea and enjoying the delicious dishes here will definitely bring you many unforgettable memories.
Grilled sea urchin with onion fat, herring salad, king crab, and fried vermicelli are Phu Quoc specialties you should try when traveling to Bai Truong Phu Quoc beach. Not too elaborately prepared, without complicated recipes, the delicious dishes here still captivate diners, perhaps because of the freshness of the seafood that nature bestows.
With a good location and a combination of comfort at Anja Beach Resort and exciting attractions in the surrounding area, your stay in Phu Quoc will become a memorable experience. Don't miss the opportunity to explore these fascinating destinations when you're near Anja Beach Re
Join our Fanpage here to know everything new
Something you may want to know: here